Kansas Sports Betting Rolls Out With Soft Launch
September 1, 2022
|
Comments Off

on Kansas Sports Betting Rolls Out With Soft Launch
|
News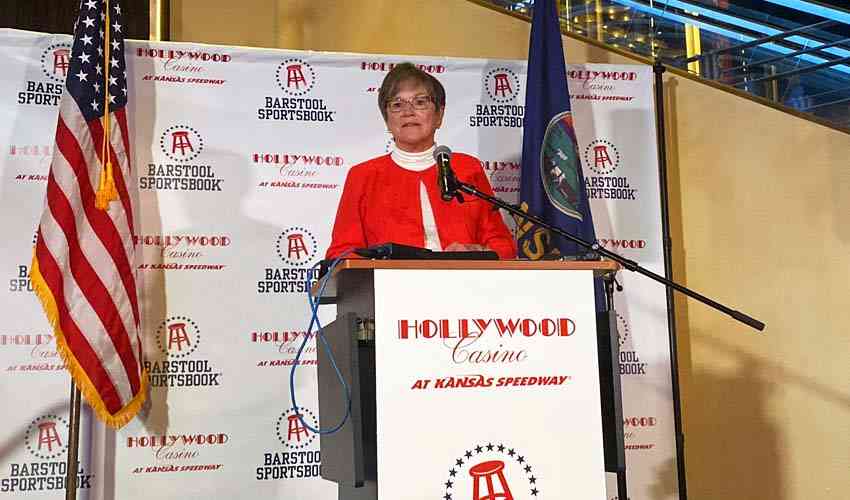 Today is the day that Kansans have all been looking forward to. For the first time ever, residents and visitors in the Sunflower State will have free range access to state-licensed sportsbooks.
Kansas Launches Sports Betting
In just 80 days since its legalization, Kansas has officially rolled out the first of many legal sportsbook options for residents in the state. To celebrate the arrival of the new sportsbooks and mobile gambling apps, Gov. Laura Kelly addressed her constituents at the Hollywood Casino.
This afternoon's events mark the start of Kansas' "soft launch" period in which operators can work out any last-minute kinks. By the time the NFL regular season has its kickoff, Kansas' approved sportsbooks should be fully up and running.
While the list is sure to grow, Kansas currently has eight sportsbook operators ready to accept wagers. Retail bettors can head to Kansas City or Mulvane to try their luck at the Hollywood Casino or Kansas Star Casino.
Although the Boothill Casino and Kansas Crossing Casinos will not host in-person wagering until further notice, you can still access their online and mobile sports betting platforms.
Mobile Betting Appeal Across State Lines
In partnership with the state's approved retail operators, digital betting options are available through six national sportsbook conglomerates. The apps and their casino sponsors are bulleted below:
Barstool Sportsbook – Hollywood Casino
DraftKings – Boot Hill Casino & Resort
FanDuel – Kansas Star Casino
Caesars – Kansas Crossing Casino
BetMGM – Kansas Crossing Casino
PointsBet – Kansas Crossing Casino
Kansas is expected to become one of the biggest gambling hubs in the Midwest. The state's three immediate neighbors–Missouri, Nebraska, and Oklahoma–each has yet to introduce domestic betting options.
Now that the year's legislative sessions have mostly come and gone, these states have essentially forfeited fall gambling revenues to Kansas.
However, the circumstances have left both Kansas lawmakers and state-licensed operators exceptionally pleased. Lottery Spokesman Cory Thone welcomed the arrival of travel bettors, saying,
"You can go to one of our casino partners, but you are also free to use the apps as long as you are in the State of Kansas. The apps are geo-fenced, and as long as you are physically in Kansas you can use them."
"Come on up, the door is open."
Looking At What Comes Next For Kansas
It seems very surreal that Kansas will get national recognition for something other than The Wizard of Oz. Especially given that the said "something" was once such a taboo in this country.
Nonetheless, the debut of iPhone sports betting apps is going to change the state in many big ways. With 80% of collected sportsbook revenues delegated towards attracting a new professional sports team, Kansas is expected to reinvigorate its local economy through tourism.
All in all, we are very much looking forward to what the future has in store for this newly legal sports betting state.
Source: Kansas City Star, Fox 23