UFC 280: Makhachev Expected To Take Win Against Oliveira In Lightweight Title
October 17, 2022
|
Comments Off

on UFC 280: Makhachev Expected To Take Win Against Oliveira In Lightweight Title
|
News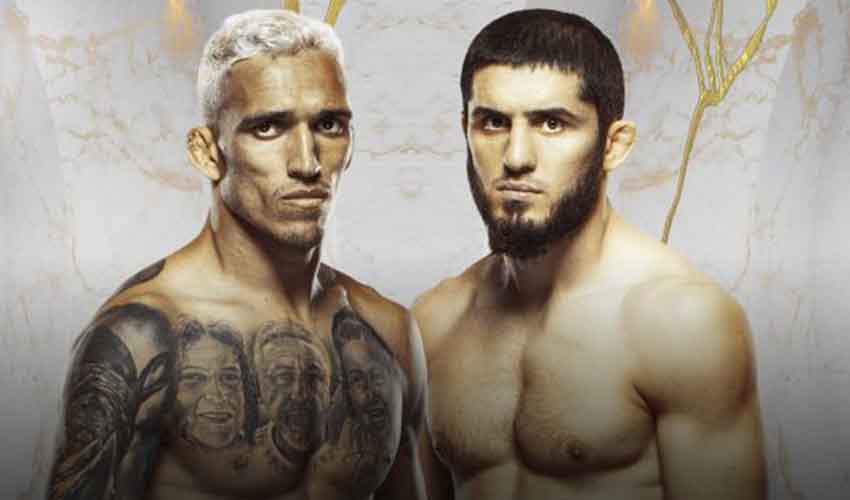 In a recent interview with UFC Russia, Khabib Nurmagodov expressed his assured opinion that Islam Makhachev will be taking the win for his title fight against Charles Oliveira in the main event of UFC 280.
Oliveira, the former UFC lightweight champ, lost his belt on the scale in May due to not making weight for his fight against Justin Gaethje. Oliveira went on to win that fight with a first-round submission.
Nurmagodev, who has retired from fighting, has taken on coaching Makhachev for his title fight against Oliveira. "I think Islam is more skilled than Oliveira," Nurmagomedov stated. He explained that Islam is at his peak as a fighter, both mentally and physically.
Odds For Oliveira And Makhachev
The odds seem to reflect Nurmagodev's favor towards Makhachev. Below are the odds for Saturday's matchup between Oliveira and Makhachev, provided by Bovada.
Charles Oliveira +137
Islam Makhachev -170
Makhachev has been established as the probable victor. However, Oliveira does have a leg over him in experience, with a career record of 33-8 compared to Makhachev's 22-1 mark. Keep that in mind when getting ready to place your bets.
With two experienced fighters going head-to-head, this clash could be anyone's game. If you're trying to quickly check the odds for UFC 280 yourself, there's a plethora of iPhone gambling apps to keep you up to date.
UFC 280 Preliminary And Main Card Fight Odds
There are twelve preliminary fights to warm up for the main card, which consists of five bouts: two lightweight, two bantamweights, and one women's flyweight. With all this action to get in on, it can be confusing trying to sort through which gambling apps to use. It's worth checking out reviews on the best real-money gambling apps to know for yourself where the best odds are.
One of the other key fights to pay attention to includes the co-main event, a bantamweight fight between Aljamain Sterling and T.J. Dillashaw. Here are the odds for that match:
Aljamain Sterling -165
T. J. Dillashaw +135
Sterling has an edge over Dillashaw in both height and reach, while Dillashaw has more experience. However, despite his experience, Dillashaw is considered the underdog with +135 odds.
If you're a fan of betting on the underdog, Dillashaw would pay out $1.35 for every $1.00 put down if he wins. UFC is well known for unexpected outcomes, so placing some low-dollar bets on multiple underdogs may act as a lucrative strategy for keeping positive in your wagering.
If you're a fan of larger odds and a higher risk – higher reward type bet, then keep your eye on the preliminary fight between Malcolm Gordon and Muhammad Mokaev. Here are the odds:
Malcolm Gordon +475
Muhammad Mokaev -750
Bets placed on Gordon will pay out $4.75 for every $1.00 risked. Gordon has a record of 14-5, which isn't terrible. Yet Mokaev has a flawless 8-0 record, proving to be a tangible threat.
Where To Bet On UFC 280
There are plenty of legal online sportsbooks available for use. If you're looking for maximum convenience in using these sportsbooks, many of them are accessible in mobile form. Mobile gambling apps are good for when you need to check your bets on the go.
It's worth checking out multiple sportsbooks to feel out which one may be the best for you, some may have more favorable betting lines for upcoming events, and consistently getting better prices will make you a better player.
Source: Bloody Elbow