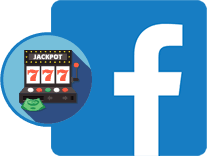 An interesting facet of online gambling has emerged in the form of social gambling—specifically, Facebook gambling. 'Social gambling' is defined as gambling via social media platforms. As of now, Facebook presents the most viable source of any potential gambling service. While there have been real money gambling apps offered through Facebook in the past (in the United Kingdom), those services have since been shut down. This creates a freemium social media gambling experience that we expect will eventually evolve into more real money gambling options. We here at realmoneygamblingapps.com have developed this page to provide information on the growing Facebook gambling market. You will find relevant material to all facets of social media gambling, including casino, poker and sports betting variants. Bear in mind, not all of these facets have been fully crafted, but there is potential on each front.
Gambling Apps For Facebook
Unfortunately, there are not any Facebook gambling apps that support real money wagering to recommend at this time. However, we review several popular free play Facebook casinos that players can enjoy 24/7. The sites listed below is our list of recommended real money gambling apps that can be accessed via your device's mobile browser (not through Facebook). Regarding the web-based applications, you can find reviews of each recommended brand in the gambling app reviews section of this website.
Social Media Gambling Options
As mentioned earlier, Facebook gambling apps are relatively new. While real money gambling options are scarce across the globe, there is a wide array of freemium gambling options. Whether you are interested in Facebook casinos, Facebook poker or Facebook sports betting, you can find information on each sector on our designated pages.
History of Social Gambling
Social gaming emerged as a result of social media developers attempting to keep users on their services for longer periods of time. Marketers determined a good means of doing this would be to develop interactive games integrated into the social media platform. Adding in a real money component establishes the game as a form of gambling, which would be considered illegal in most countries (especially the United States, one of the strictest places for online gambling). As games were rolled out, marketers noticed some user trends, including posting about their successful competitive streaks (i.e. bragging rights).
This sense of competitiveness fostered the freemium market. Freemium apps are apps featuring in-app purchases that help the player advance in the game. FarmVille is an example of a popular Facebook app where users would spend money on items within the game to increase their score. With Facebook gambling apps, users can purchase tokens for additional slot spins and more.
There was an attempt to introduce real money gambling into the United Kingdom online gambling market through Zynga. Zynga are one of the most well-known Facebook app developers in the industry and are responsible for FarmVille. Zynga partnered with Bwin.Party, a digital entertainment group with a focus in online gambling, to introduce ZyngaPlusPoker and ZyngaPlusCasino, two real money gambling Facebook app options. The ambitious initiative failed for several reasons, including poor incentivizing of players to swap online poker services and Facebook's stringent policies of keeping minors off the apps (most of the online FB gamers at the time were underage) and geolocation enforcement; only players within the UK could participate in the apps. As a result of the low user traffic, both ZyngaPlusPoker and ZyngaPlusCasinos shut down.
Some Stats On Social Gaming
• 14% of social gamblers spend at least an hour every day playing at work
• The average age of a social gambler is 39
• According to SuperData Research, the average age and gender of social casino gamblers is 36-41 years, and over 72% is comprised of females
• Top 4 reasons for social gambling are stress relief, mental stimulation, social interaction and relaxation
• Social gambling is a billion-dollar industry
FAQs
What Is Social Gambling? Social gambling is defined as gambling via social media. As of now, Facebook is the best platform for social gambling.
Are There Real Money Gambling Apps On Facebook? Facebook is very strict when it comes to hosting real money gambling apps. If there were any Facebook real money gambling apps, they would only feature in a country where that type of online gambling is allowed and even then, Facebook would still have to authorize it.
What Types Of Gambling Are There On Facebook? As of now, players can find free play casinos and free play poker games. Game variants will depend on the free play gambling app being used. Again, these apps do not feature real money gambling.
Are There Age Restrictions With Facebook Gambling Apps? Yes. Facebook is very strict on their 18+ age policy for their gambling apps. Some apps require players to be at least 21 years of age, even if there is no real money gambling taking place.
Do Facebook Gambling Apps Have Bonuses? Yes. Social media gambling apps feature bonuses that reward players for their activity on the app. For example, you may receive 2 free bonus coins every hour. These coins are redeemable for casino play. Welcome bonuses are also common—where players are awarded a large sum of coins redeemable for use within the casino.
Will Facebook Ever Offer Real Money Apps? One of the major hurdles mentioned by the opposition to online gambling on social networking platforms is age verification. Pre-teens make up a large Facebook component, and online gambling opponents are rightfully concerned about children getting access to real money gambling applications. This has also been a vocal concern of Mark Zuckerberg, Facebook's founder and CEO. To online gambling proponents, this is a non-issue, as current age verification platforms in many countries are currently and effectively employed with excellent results.
When will Facebook gambling apps offer real money play to United States residents and travelers? That is a question with no current answer, but many countries have already legalized online gambling, and so have some states in the US. There was once a contingency which said that live destination gambling would always be outlawed in the United States. However, we now have access in the US to many types and forms of gambling in physical casinos in most states. And with the current massive growth of social networking and sites like Facebook, social network real money gambling is poised to be the wave of the nearby future in the online gambling community. As Facebook continues to develop their gambling app repertoire, there are plenty of alternative real money gambling apps supported by multiple mobile platforms.
Real Money Options Available Outside Of Facebook
Disclaimer: This website has nothing to do whatsoever with Facebook. We are simply a guide explaining what if any gambling options are available on FB and what alternatives exist.