Don't Get Hoodwinked By Fake Money Gambling Apps
November 12, 2020
|
Comments Off

on Don't Get Hoodwinked By Fake Money Gambling Apps
|
News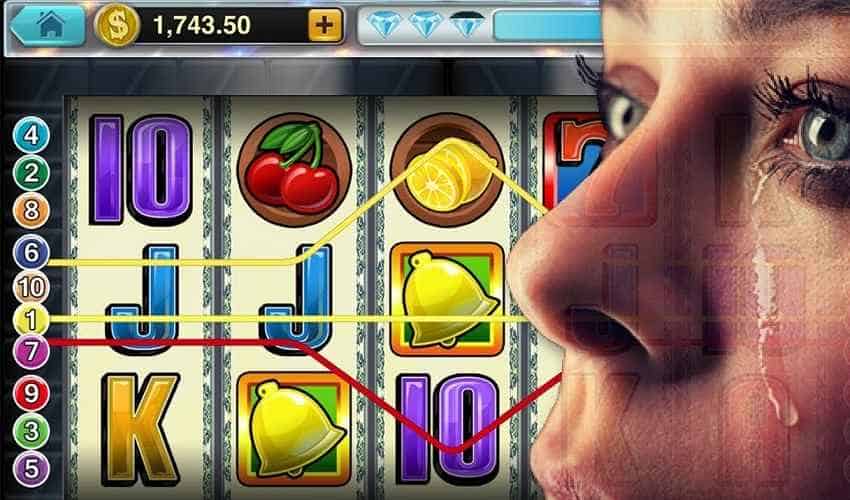 At RMGA, we've been intimately involved in the gambling app market for years.
We play casino games on our iPhones and Androids, we bet on sports via our mobiles, and we generally embrace the hobby. We live it, and we report on it.
But even more than that, we're here to help direct potential players – and former players transitioning to the online gambling marketplace – to legal, safe, reputable options to indulge in their favorite pastimes.
While most things in the legal online gambling industry are business as usual (even despite the coronavirus madness of 2020), one of the truly bizarre developments over the last several years has been the slew of fake gambling apps available on the most popular mobile platforms.
The most notorious offenders, of course, are the biggest players in the space: Apple and Google.
While these outlets bar legitimate international betting sites from offering native apps on their storefronts (which is why you can't download a Bovada iPhone app or Ignition Casino Android app, though both are easily accessible as web apps from your mobile browser of choice), you can download any number of gambling-themed games that are built around the much-maligned IAP – or in-app purchase – model.
The revenue model for these simulated gambling apps employs microtransactions that charge users real money – real money! – to buy virtual tokens with which to play slots, various table games like blackjack and roulette, and so on.
But here's the kicker: You can't win anything except more in-game virtual tokens.
And here's the bigger kicker: Those in-game virtual tokens can only be redeemed for more chances to play the games on offer!
For the player, this is gambling without the ability to earn a real payout. It is, in our view, utterly preposterous.
It just doesn't make any sense.
This is especially baffling when you consider that everyone has the ability to legally play real-money mobile casino games safely – games that actually pay out real money – on the very same devices where they're currently burning up their paychecks and pensions without even the slightest possibility to win actual cash.
To see how prevalent these fake casino apps are, we've pored over several online resources that show – in real time – exactly which apps make the most money on Apple's and Google's mobile platforms.
The results are shocking.
In the following lists, we're including only those apps that are based on simulated gambling where players can spend real money to play but can't actually win payouts.
Remember, the App Store is a multibillion-dollar business for Apple. Similarly, the Google Play store is a multibillion-dollar business for Google, though it makes considerably less money than Apple's offering.
We're limiting our results from the top 50 highest grossing apps for iPhone, iPad, and Android (which doesn't differentiate between smartphones and tablets).
iPhone Highest Grossing Apps
Coin Master (5)
Slotomania Vegas Casino Slots (14)
DoubleDown – Casino Slots Game (17)
Jackpot Party – Casino Slots (19)
Big Fish Casino: Big Win Slots (27)
Cashman Casino Las Vegas Slots (29)
Bingo Blitz – BINGO Games (32)
House of Fun – Casino Slots (34)
Cash Frenzy – Slots Casino (41)
World Series of Poker – WSOP (43)
Jackpot Magic Slots & Casino (50)
Exactly 11 of the 50 persistently top-grossing iPhone apps are literal fake money gambling apps. Here at Real Money Gambling Apps, that's a bit distressing.
Remember, every single person that plays these games can access actual legal gambling sites – with the exact same game types (and more of them, to boot) – on their exact same devices.
They'll also spend less money doing so, and they can win real cash or crypto – i.e. Bitcoin, Litecoin, Ethereum, etc. – which they can actually withdraw and use in real life.
But if your mind is blown that over 20 percent of the iPhone App Store's income is derived from these games, just take a look at the situation on iPad:
iPad Highest Grossing Apps
DoubleDown Casino Slots Game (2)
Slotomania Vegas Casino Slots (4)
Jackpot Party – Casino Slots (5)
DoubleU Casino – Vegas Slots (7)
Bingo Blitz – BINGO Games (8)
Heart of Vegas Slots – Casino (9)
Cashman Casino Las Vegas Slots (11)
House of Fun – Casino Slots (15)
Big Fish Casino: Big Win Slots (20)
Huuuge Casino Slots Vegas 777 (23)
Cash Frenzy – Slots Casino (24)
Hit it Rich! Lucky Vegas Slot (25)
Lightning Link Casino Slots (30)
Caesars Casino: Vegas Slots (31)
Gold Fish Casino Slots Games (33)
Wizard of Oz: Casino Slots (34)
My KONAMI – Real Vegas Slots (35)
Quick Hit Slots – Casino Games (36)
World Series of Poker – WSOP (38)
We could go on, but it's too depressing.
On iPad, 19 of the top 50 highest grossing apps are fake money gambling apps. That's 38 percent.
And if you think this is an aberration, you're wrong. Ever since the iPad launched in 2010, we've been tracking these lists, and these IAP-heavy casino-themed apps have represented roughly 35 percent of the top 150 apps at any given time over that span.
The saturation is definitely lower on iPhone, but the reason for this is simple: Players prefer the bigger screen when it comes to gambling-style play, and iPhones have many more use cases than iPads, which means they have a greater diversity of popular apps.
Of course, since all the best legal gambling sites use responsive design standards that conform to even the biggest iPads, there's simply no excuse here, either.
So that's the scenario with Apple.
Next, we'll look at how things stack up in Android's Google Play store.
Remember, Google Play isn't broken down by device or device type, so this list covers phones and tablets all running the Android OS:
Android Highest Grossing Apps
Coin Master (1)
Bingo Blitz – BINGO Games (9)
Slotomania Free Slots: Casino Slot Machine Games (17)
Jackpot Party Casino Games: Spin FREE Casino Slots (21)
Cash Frenzy Casino – Free Slots Games (27)
Cashman Casino: Vegas Slot Machines! 2M Free! (38)
Huuuge Casino Slots – Best Slot Machines (40)
Vegas Slots – DoubleDown Casino (43)
POP! Slots – Play Vegas Casino Slot Machines! (44)
House of Fun: Free Slots & Casino Slot Machines (48)
Lotsa Slots – Free Vegas Casino Slot Machines (49)
Just as with iPhone, 11 of the top 50 highest grossing Android apps are casino-themed titles driven by IAPs that offer no real-money payouts.
And also as with iPhone (and iPad), this ratio continues all the way down the list. Take the top 100, and you'll see the same incidence. Take the top 150, and ditto.
Here's what this means, in a nutshell: Millions of US players are paying billions of US dollars for the chance to win nothing whatsoever.
Just think about that for a minute.
Or don't. Your brain might melt.
And that's just it: Many people who play these games – perhaps most people who play these games – aren't thinking.
Case in point: The simultaneously fittingly and ironically named Karen Workman of Connecticut.
This Karen apparently doesn't work, but she sure does fake gamble.
In just six months, playing a game called Jackpot Mania (which isn't even in the top 50, Karen!), Workman spent $3312.19 on in-app purchases to buy virtual tokens to yank the virtual crank with no hope for a payout.
While gambling addiction is no laughing matter, we must point out that this isn't technically a gambling addiction. "Gambling" implies that the player has chance to win something of value. This is…well, we don't know what this is. It's something else.
For Workman's part, she's now suing Apple. Obviously.
The lawsuit was formally lodged on October 23, and it claims that the Cupertino company "promotes, enables, and profits" from "gambling" on the App Store.
Apparently, Workman's lawyer believes that these games do in fact constitute gambling in legal terms, as they seemingly have a mechanism to provide a "thing of value" – in this case, "more playing time."
Further, the suit claims the following:
"Apple is not some minor or incidental participant in these illegal gambling games. It is the principal promoter and facilitator of the illegal activity. Apple maintains dictatorial control over what apps can be downloaded from the App Store, and the payment method to purchase in-app items."
Workman's attorney is seeking remuneration for Workman, legal fees, and class action status for the suit.
While it's easy to pile on this unfortunate player, the reality is that millions of users are in her same position.
Why?
That's simple enough: There is a general attitude that real-money online gambling is illegal in the United States, so this is the only alternative.
But this is a false premise. It simply isn't true.
All of the top offshore betting sites that offer mobile slots and other casino table games for real money are largely legal in the US, and there are no federal laws barring participation with these operators.
In fact, only two states – Washington and Connecticut – have laws against individuals gambling online, and even those are historically unenforced.
Ultimately, this is an issue of gambling enthusiasts being misinformed and taken advantage of.
They believe that the only way to scratch that gambling itch is to use these apps, and they take for granted that if they play online casino games for real money (in the 46 states where there are no domestic iGaming opportunities), they'll be breaking the law.
The key, of course, lies in getting the word out to these customers that they have legal, legitimate gambling options that offer the same types of games – with all the same sights and sounds, with all the same touchscreen controls and animations – available to them right through their mobile browsers.
Yes, these fake money gambling apps are fun and engaging. But you can't win real money – you can only spend real money.
And for our money, that's a terrible deal.
Source: AppleInsider