Tennessee Launches Sports Betting Exclusively Through Online Gambling Apps
November 20, 2020
|
Comments Off

on Tennessee Launches Sports Betting Exclusively Through Online Gambling Apps
|
News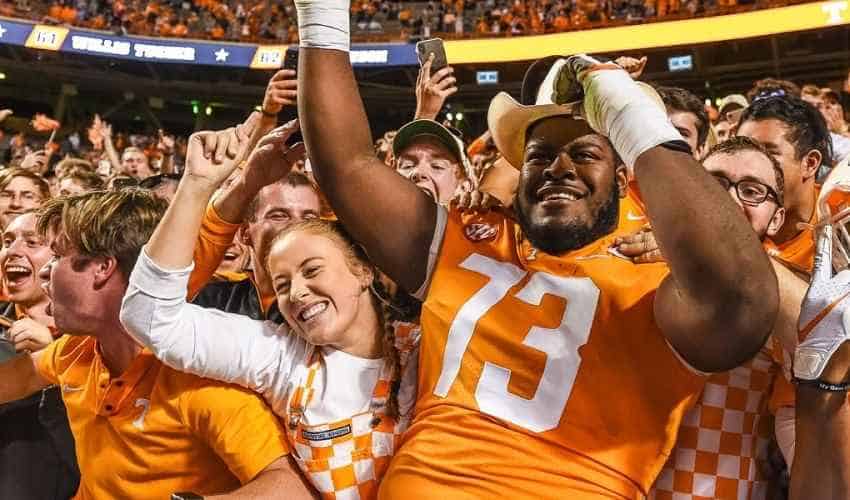 Tennessee, like so many other states with new gambling measures, has dragged its feet a bit after initially enacting legislation to legalize their state sports betting marketplace.
After the popular pastime was signed into law on April 30, 2019,  it took state regulators nearly a year and a half to actually launch their first sportsbooks.
That's especially impressive considering that operators didn't have to actually renovate any existing casinos or retail venues to accommodate these sportsbooks. Tennessee sports betting is exclusively available online.
All they had to do was get some apps launched. It should have taken a week.
Nevertheless, the wait is finally over.
On November 1, 2020, the state's domestic sportsbook operators began officially taking action from Tennessee bettors.
Seven national and local sportsbooks received sports betting licenses from the state gaming authority. Some big names include DraftKings, FanDuel, and BetMGM, though smaller operators are also in the mix.
That includes Tennessee Action 24/7, which is a local option defying the general trend of states handing handles over to big conglomerates and national brands.
This move comes on the heels of sweeping sports betting legislation making its way across the United States, allowing the US gambling industry to operate more freely in many areas.
While this may seem like a big win for the industry, bettors in TN should take the news with a few grains of salt.
Indeed, most sports betting enthusiasts in the Volunteer State likely already play with established international mobile gambling apps, and these options are almost universally more compelling than the new Tennessee sports betting app offerings.
There's a long list of reasons why bettors largely choose to wager with these well-reviewed gambling apps even after local options become available.
Below, we provide some reasons as to why the new domestic options in Tennessee fall short of their international counterparts.
The first and most obvious reason that offshore real money sportsbooks  are better for your bottom line is that the contracted providers in Tennessee only offer action to those aged 21 and up.
Meanwhile, all the best international sportsbooks cater to players aged 18 and up. If you're a young adult and just getting started betting in Tennessee, these sites give you a three-year head start on building your bankroll and your betting strategies.
Secondly, TN sportsbook operators must purchase official league data from professional sports leagues in order to take single-game sports bets.
This is a relatively unique rule that all the leagues proposed in the wake of the PASPA overturn in 2018. Legislators in most states laughed them out of the room, but Tennessee inexplicably took the bait.
We have no idea why they did so, but they're probably going to regret it. And if you bet with them, you probably will, too.
This extra financial burden on domestic books forces them to offset that cost on the front end, meaning they'll increase their vigorish (or house takes), and you'll get smaller payouts all around.
Thus, instead of a line with -110 on the spread of the Tennessee Titans game, local bettors may see a -115 or -120 spread instead.
That's even worse garbage than the Titans themselves!
Finally, there's the issue of the oft-lamented "hometown skew."
Tennessee professional and collegiate sports teams have a huge and historically rooted fanbases. That's true for most states with legal sports betting domestically.
But consider: Due to the mandates of the Federal Wire Act, local Tennessee sportsbooks can only accept bets from those physically inside the state of Tennessee. That is, they can only accept bets from local and regional sports fans.
So how do you think the betting lines on any local Tennessee game will look?
Well, we'll tell you – and it ain't pretty. 
Because domestic books only take bets from local TN residents, most bettors will bet on local and regional teams in high numbers, even when they are the overwhelming underdogs.
And because a sportsbook's job is to get equal money on both sides of a given bet, they have to account for this lopsided influx of action on hometown heroes.
As a result, TN sports betting sites will change the odds, giving you worse payouts on both local underdogs and favorites. Hometown action always send the lines plummeting.
Now, this can sometimes work to your advantage if you're betting on the other side. But if you're a homer yourself, you're going to get ripped off. Or, at least, you're not going to get the best odds and payouts possible.
Domestic sportsbooks in every US state run into this same issue, which is why we always go the offshore route to ensure that our dollar means more. Shopping lines is always an automatic edge, and it's something every bettor should do right from the start.
Here's why: If you're betting on the Volunteers at a domestic book and they're pulling +140 moneyline odds against a much better team, look at the international sites. You might be surprised to find them sitting at +280 or more.
You can literally double your money by betting with the best overseas sportsbooks. That's not hyperbole, either. It happens all the time.
So if you want to take your bets to the bank, you need to take them offshore first.
Source: Rocky Top Insider