Bovada Charges Ahead With PayPal Deposits, Other P2P Banking Options
October 16, 2020
|
Comments Off

on Bovada Charges Ahead With PayPal Deposits, Other P2P Banking Options
|
News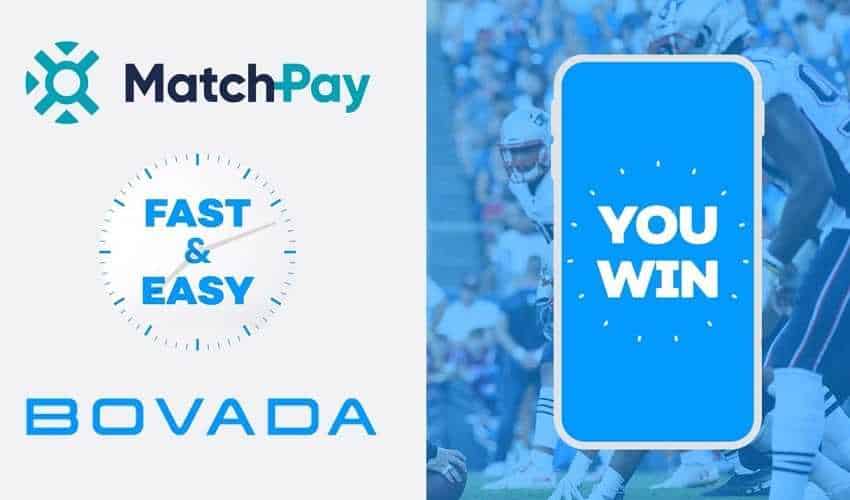 If you're thinking about playing real-money casino games online via mobile, you've always had excellent options. The providers working in the space are reputable, time-tested, licensed, and regulated in legitimate gambling jurisdictions all over the world.
However, the one area where your options have been arguably less than excellent is when it comes to the casino deposit methods available at these sites.
Due to the federal UIGEA gambling law that prevents US-based financial institutions from knowingly processing payments to and from overseas betting sites, instant-pay person-to-person (P2P) services like PayPal, Venmo, Cash App, and Zelle have never been accepted.
Because these are corporate policies predicated on UIGEA compliance, they're not likely to change any time soon.
Fortunately, they don't have to.
Thanks to Bovada's forward-thinking approach to member deposits, the site has launched a brand-new partnership with third-party P2P platform MatchPay.
MatchPay is a unique concept in the online banking industry. The service allows members of various merchants to buy all or part of the account balances of other members of those same merchants and have those balances credited directly to their own accounts.
Any retailer who wishes to support MatchPay can do so, and though the service is a fledgling startup, Bovada Casino – America's favorite gambling operator – has fully embraced it.
With MatchPay casino deposits, Bovada members can buy all or part of the eligible account balances of other Bovada members using PayPal, Venmo, Cash App, and Zelle Pay. Bovada members can also use MatchPay to sell their balances, thus giving them same-day payout options from the offshore bookmaker.
Until now, the quickest way to deposit into your account at a web-based real money gambling app like Bovada was to use credit or debit cards. These options – while rapid and secure – are historically hit or miss, as transactions are sometimes declined by banks' automated UIGEA compliance systems.
While a card rejection doesn't mean you've broken any US gambling laws (you haven't) – and though it doesn't actually lock or suspend your card – it's a serious inconvenience that is especially pronounced for those looking to legally bet on sports online.
Casino gamblers and mobile poker players can live with a slight deposit delay, but sports bettors, not so much. For the latter in particular, if a deposit is hung up in red tape for any length of time – even for an hour or two – bettors can easily miss out on lucrative lines.
Sports betting odds shift constantly, and fifteen minutes here or there can be the difference between a bona fide windfall and taking all the wind out of your sails.
At first, to solve this problem of delayed or declined banking transfers, Bitcoin deposits arrived on the scene several years ago and largely cleared up the issue.
As a decentralized, non-bank-backed and non-governmental cryptocurrency, Bitcoin legally sidesteps the UIGEA and other monetary transfer restrictions.
Indeed, to this day, BTC remains the best deposit option for offshore mobile betting sites due to the increased bonuses, high limits, fee-free transfers, and same-day payouts the cryptocurrency offers its users.
Of course, not everyone is willing to go through the rigmarole of buying BTC at a USD-to-Bitcoin exchange and then transferring those funds to their online real-money gambling operators of choice.
This process, for first-time crypto users, can take even longer than dealing with a declined card, as there's often a 10-day wait involved when buying BTC with fiat currency via exchanges like Coinbase and other popular services.
With MatchPay, you won't get access to the Bitcoin perks you'd receive for using crypto to fund your online gambling account, but you'll be able to make rapid deposits using heretofore unavailable services like PayPal, Venmo, Cash App, and Zelle.
All you need is a membership at Bovada (or any site that is likely to support MatchPay in the future, like Bovada sister sites Café Casino, Ignition Casino, or Slots LV) and a membership with MatchPay. The rest is as simple as making a typical PayPal transfer or using any other popular P2P service.
Additionally, when you use MatchPay, your transfers – into and out of your betting account – come with no added fees, and deposits earn typical non-crypto bonuses, so you can top off your bankroll and pull up a seat at the high roller table or crank on those $10 slots with confidence.
MatchPay is not only a gamechanger for mobile casino gambling, it's also a game maker for the industry, as it will open the door to hundreds of thousands (or even millions!) of new members who were holding out for PayPal, Venmo, Cash App, and Zelle Pay convenience.
With Bovada MatchPay, the best just got bettor!