Colorado's Proposition DD To Legalize Sports Betting Too Close To Call
November 6, 2019
|
Comments Off

on Colorado's Proposition DD To Legalize Sports Betting Too Close To Call
|
News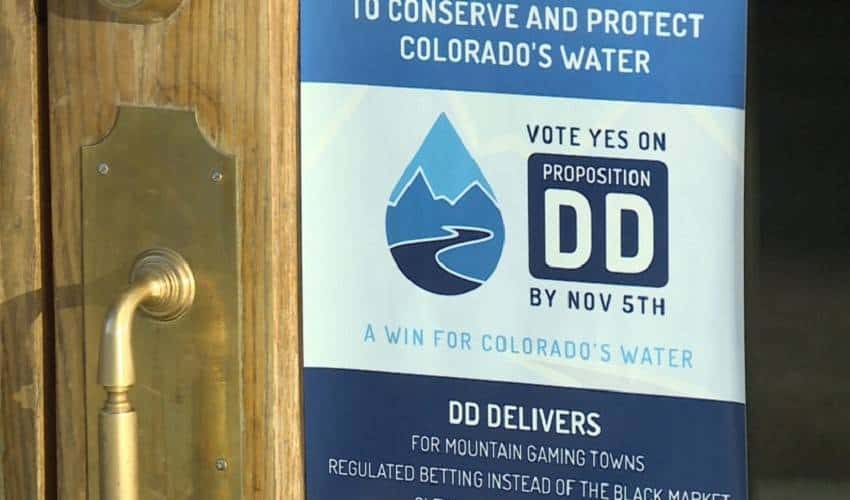 On Tuesday, Colorado voters took to the polls to cast their ballots on Proposition DD, which would legalize brick-and-mortar sports wagering as well as mobile betting in the state.
However, as of Wednesday morning, the outcome is too close to call, with "yes" leading by roughly 13,100 votes over "no," for a margin of about 0.96%.
Proposition DD is a bipartisan measure that would install sports betting in Colorado and tax the pastime at 10 percent of all sportsbook revenue. The proceeds would be earmarked for the Colorado Water Plan, which is currently about $3 billion short of its long-term projected costs.
Over the past year, the issue of sports betting legalization in the state has been inexorably tied to this ecological initiative, which makes CO unique among most states. In the majority of US gambling jurisdictions, gaming-related taxes typically go to nebulous "general funds" or take the popular lottery-for-education tack.
Colorado lawmakers suggest that casino-based sports wagering and regulated real-money gambling apps would generate an estimated $290 million annually, which in turn would add $29 million per year to the aforesaid Water Plan.
According to a 2017 Oxford Economics-AGA report, CO lawmakers are perhaps a tad conservative in their estimates. Given the state's base tax rate on sports betting and the convenient access afforded by online, app-based mobile gaming, the figure could be several points higher.
Once legalized and fully deployed, sports betting in Colorado could credibly garner a total handle of $4.9 billion, sportsbook revenues of some $322 million, and yearly tax hauls of $44.6 million (with $32.3 million going to the state and $12.4 million going to the federal government).
To pass into law, Proposition DD needs a simple majority of the vote in the affirmative (i.e. 50 percent plus one vote), and that seems likelier than not to happen. By state law, should the result be closer than a 0.5-percent differential, a recount will be called for, which could delay the vote's results by several days.
Naturally, there are activists on both sides of the equation.
For environmentalists in the state, Proposition DD is a no-brainer. Per Brian Jackson, senior manager at the Environmental Defense Fund:
"Money, water and wins by the Broncos are scarce, but DD helps link the three in a way that funds, protects and keeps Colorado the state we know and love, with healthy rivers, clean drinking water and abundant recreation."
There are others who say that linking sports betting to the Water Fund, while seemingly necessary for the latter, puts a burden on those who may become addicted to gambling or otherwise plunge themselves into financial ruin over access to land-based and domestic online sports betting. (This, despite the fact that hundreds of thousands of Colorado residents already use offshore sportsbooks to wager hundreds of millions of dollars each year.)
Alamosa Riverkeeper Cindy Medina is among this group of detractors.
"I think that it's an odd source of funding. We're taxing a vulnerable population possibly dealing with issues of addiction."
Scott Wasserman of the Bell Policy Center in Denver echoes Medina's general sentiment, lamenting the state's habit of "pursuing regressive forms of taxation to fund really important needs."
However, even these critics maintain that, at the end of the day, Colorado's Water Plan is desperately important and that such public considerations trump any potential issues of addiction and individual hardship that may result from legalized sports betting.
Of course, though the experts agree, the voters are split almost 50-50.
Either Proposition DD passes, bringing with it clean water and clean sports betting apps, or Colorado will have to find other means to make up the budgetary shortfall for its Water Plan.