Casino City Press Debuts Coronavirus Tracker For Gambling Market
July 9, 2020
|
Comments Off

on Casino City Press Debuts Coronavirus Tracker For Gambling Market
|
News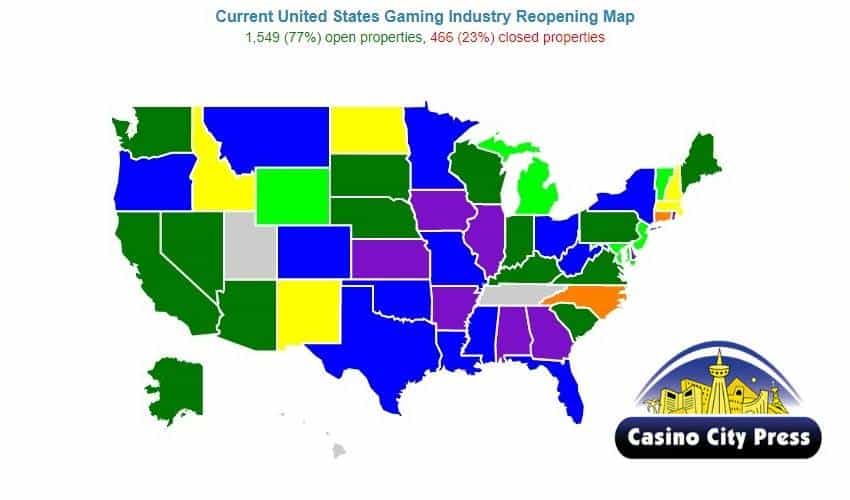 Sometimes, the best gambling app isn't a gambling app at all.
While three states (DE, NJ, PA) have legal gambling apps that let locals and visitors play casino games online, the rest of America is out of luck, relying on either nearby commercial or tribal brick-and-mortar experiences or going without their favorite hobby for extended periods of time.
In the age of coronavirus, even if gamblers had convenient retail casinos in their neck of the woods, they've largely been relegated to other pastimes over the last several months.
Naturally, the savviest gamblers are aware that they can play at real money mobile casinos operating offshore from anywhere in the US, but for many – for whatever reason – this remains an avenue they are either unaware of or unwilling to pursue.
While we advocate joining a legal, reputable online gambling site ASAP, for those not ready to take the offshore plunge, a new gambling app of a sort is making waves.
The Casino City Press – a subscription-based gambling industry newsletter and statistics service – has just released their newest and most useful web app: the free "COVID-19 Gaming Property Closings And Reopenings" map.
Per Michael Corfam, CEO of Casino City Press:
"This is a challenging and unprecedented time for the entire industry. From the very beginning our dedicated research team has been investigating and chronicling the closing and reopening of gaming properties in the wake of the coronavirus pandemic in the United States and Canada. We look forward to providing instant access to our continuously updated information about reopenings as they occur through our new complimentary COVID-19 web application."
Simply put, the Casino City web app lets you track – in real time – which casinos in the US and Canada are closed due to the coronavirus and which ones are open for business.
You can toggle between commercial and tribal venues, search either country on its own, closely examine individual states and provinces, and look at past dates during the lockdown to fine-tune your research.
The map also covers racetrack closures as well as those horse racing venues that have continued to operate sans spectators.
Per Casino City, in the United States at the time of this writing, there are 1549 open casinos and betting outlets, while there are 463 closed retail gambling venues.
That means that about a quarter of the entire US casino industry remains completely offline.
Semantically, of course, an even greater percentage of the industry is "offline," in that they don't allow online gambling.
That, it turns out, has been a mistake, as those few states with online gambling have continued to make valuable revenue from their casino operations despite physical facilities being completely shut down.
In Pennsylvania, where FanDuel recently split its online casino app off its sportsbook and launched the FanDuel Casino as its own product, the coronavirus has hardly slowed down business for the Valley Forge Casino Resort.
In the last four months, FanDuel customers in PA have wagered $200 million on table games through the original app, which only offers about 30 different RNG (random number generation) titles to choose from.
Offshore casinos, of course, have 10 times the amount of games, all developed to the same standards by many of the same RNG software companies that serve the global land-based and online casino industries.
While there are no doubt many hundreds of thousands of eager gamblers ready to get back to their favorite retail hotspots to hit the felts and crank the slots, a large chunk of that clientele may move online exclusively.
For those sticking with the retail experience, Casino City's excellent tracker app is a great tool to get the exact dates of casino reopenings in every region.
But more than that, the app shows you just how shortsighted states (and provinces) without online gambling truly are, just how much risk they could have averted – and just how many jobs they could have saved – if they'd merely embraced online casino gaming with the same gusto as many states have pursued online sports betting in the wake of the 2018 Supreme Court overturn of PASPA.
If COVID-19 doesn't cause a massive groundswell of legislative support for online gambling across the board, nothing will.
Fortunately, should legislators continue to drop the ball, you can still join a legal offshore casino and play from home or on the go with their real money gambling apps.
And best of all, you only have to be 18 or older to sign up.