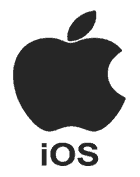 If you walk into a brick-and-mortar casino you will see rows upon rows of different slot machines. iPhone slot casinos emulate this effect by providing a well-rounded variety of slots games including Progressives and 3D versions. These applications are web-based and easily accessible through most iPhone types.
Many people use their Apple smartphone devices for slot gambling and it is easy to see why given what these mobile games provide their clientele. Web-based applications through licensed and regulated offshore providers are considered legal in multiple jurisdictions, including the US.
This guide was designed specifically for individuals with Apple mobile devices looking for a reputable, legal smartphone slot experience, as well as, information on the mobile slot gambling legal framework, the best available applications compatible with Apple's iOS operating system, and how these slots function.
Top Real Money iPhone Slot Gambling App For 2023
SUMMARY
The Slots.lv brand was launched in late 2013. They have earned a reputation for providing high-quality online gambling and have since launched a very robust and successful mobile casino platform that offers a variety of mobile casino games, including slots as the name suggests.

They even included their inventive 3D slot games on the menu. You can access iPhone slots and other casino games without an invasive download, and also enjoy generous welcome bonuses. Claim up to $5,000 in free bonuses at Slotslv mobile-friendly casino.
All Real Money Mobile Slots Apps
Compatible With iPhones In 2023
What Is A Progressive iPhone Slot?
When you approach a basic slot machine, the jackpot is fixed. This means that no matter what happens, you can only win the designated amount. For example, a $500 slot can only get you $500. Progressive slots create a new slot experience in which players' potential jackpot earnings increase exponentially.
On a progressive game, the jackpot rises with each coin put in the machine and each spin. In terms of iPhone casinos, each time a person deposits money into the progressive slot, a percentage is taken and added to the overall jackpot. Once the winning combination is hit, the jackpot is disbursed out and reset to zero or a designated minimum amount, starting the whole process over again.
With iPhone slot apps, the number of people playing at one time is a lot higher than in a brick-and-mortar casino. Most land based progressives are locally based anyway, meaning the slots are linked to other slots within the same casino location. This makes the jackpots climb slower.
Mobile slot apps carry users well into the tens and hundreds of thousands at any given time, if not more. This means the potential jackpot amount can be much higher. As far as the odds go, it is difficult to win a progressive slot from a statistical standpoint. While using an iPhone slot app gives you an advantage in having access to more progressive slots at once, but it doesn't help your odds of getting the winning reel combination.
Which Apple Devices Are Compatible With Mobile Slot Apps?
Apple has a large arsenal of devices with their different iPhone and iPad models. In order to get a better experience, we recommend using iPhone models 5 and higher. This includes the 5, 5c, 5s, 6, 6 Plus, 6s, 6s Plus, SE, 7, 7 Plus, 8, 8 Plus, iPhone X, and iPhone XR.
There are 6 generations of the traditional iPad. There is also the iPad Air, iPad Air 2 and iPad Pro (with multiple generation models). The newer iPad models will work better, but the oldest of models should still be able to support these web-based applications.
Responsive design technology is built into the code of the application and helps keep design and functionality elements consistent across screen size dimensions. Keeping your iOS up to date is another way of ensuring a satisfactory experience with iPhone real money apps. The latest iOS version being 12.
Do iSlot Apps Slow Down My Device?
Our research has yet to find any instances of iPhone and iPad slot applications slowing down your device. Smartphones and tablets are built to withstand multiple programs running at once. They can stream video, play music and be used for a wide variety of other functions, including mobile gambling.
The only thing that could slow down your device is iOS updates not being compatible with your model device. Apple admitted to purposefully issuing updates that slow down older model devices in order to get users to purchase newer generation phones and iPads.
This is why we recommend at least an iPhone 5 and up as older models degenerate quickly in terms of applicability. As far as the actual iPhone slot apps themselves, they do not bog down your device by any means.
How Do iPhone Slots Work?
You will need to register for an account on the individual slots gambling app you choose. All that is required is some personal information such as your name, email, location, date of birth, etc. This is used to verify your bettor eligibility and whether or not you can be accepted from a legal standpoint.
Once you have a verified account, simply choose the slot machine you want to play (provided you've made a deposit) and begin playing. Some slots feature bonus rounds that are accessed when you hit a specific reel combination. In these bonus rounds, players can choose from random prizes that add to the original potential winnings.
If you'd like to switch over to Free Play mode, you can do so easily within the app. Free Play is an assistive tool that helps players acquaint themselves with different slots before wagering any of their own money.
iPhone Real Money Slots App FAQs
The different slots games are powered through iGaming software providers that are well-known within the online gambling industry such as RTG, Microgaming, BetSoft, Playtech, and many others. These providers develop games to be sold to offshore casino operators with top-of-the-line audio and physical components are integrated into each game. There are new games put out by these same providers often, meaning users can enjoy a fresh new batch of games every once in a while.
No, Apple puts out new operating system versions constantly which would be painstaking to ask players to consistently update. In some cases, iOS updated address big changes while in others they simply fix a small bug. The latest iOS version is 12 and there will be new software updates put out over the coming years.
While you do not need the latest iOS to play, staying up-to-date on the latest iOS versions can prevent your device from running poorly. This will also ensure the security protocols on your device are not compromised.
You can rest assured that the iPhone slot programs listed in this guide are required to be tested for fairness as part of their licensing and regulatory oversight. Random Number Generator (RNG) technology is the most common method used within these applications as it uses mathematical combinations to create 100% randomized slot pulls with each spin. iGaming providers test this technology for quality assurance and consistency across the global.
Yes. Responsive design technology guarantees successful slot functionality no matter which screen size dimensions you use. This means iPads are in play for offshore slot applications.
There are 3-Reels, 5-Reels, video slots, Progressive slots, 3D slots and more!
Other Platforms Supporting Real Money Mobile Slot Apps