Topbet Mobile Sportsbook Review 2023
Update 2023: We no longer recommend Topbet to our visitors. There are much better and more reliable options out there. Check out our mobile sports betting app reviews page to find a more reputable site to play at.
Topbet sportsbook was launched in 2011 and are one of only a handful of sites we recommend to our visitors. They've had a few issues in the past with slow payments, but this has happened with nearly all the sites that continue to cater to US players. That being said, we can say with absolute confidence that these issues have subsided completely ever since Topbet implemented Bitcoin as a deposit and payout option. Now payouts are coming faster than ever and usually within a few days which is above industry standard.
Below you will find our honest review on Topbet sportsbook along with what the site has to offer players who are looking for a mobile friendly site.
SUMMARY
All things being equal, one of the biggest draws for American players looking for a new site to bet at is what the site offers in the way of bonuses and perks. This is where Topbet has a leg up on most other sites. Topbet offers all new players who make a real money deposit of $200 or more a generous 100% bonus up to $1,000 free. They also offer a lot of different perks and promotions for loyal players making them an excellent choice for the smart gambler who understands how valuable bonuses are.

In addition as of mid 2016, Topbet now offers Bitcoin for deposits and withdrawals. This is a pretty big deal for US players as it allows near instant deposits and much faster payouts without the worry of your credit card getting declined or waiting weeks for a check to arrive.
INFO
Established 2011
License Jurisdiction Curacao
Gambling Age 18+
USA Friendly Yes
POSITIVES
Generous Promotions
Easy Deposit Options
NEGATIVES
Had Some Issues With Slow Payments In The Past
Bonuses And Promotions
As mentioned above, Topbet offers new players a 100% bonus up to $1,000 free. It depends on how much you want to deposit as to what bonus you will receive. Deposit $50-$99 and receive a 50% bonus. Deposit $100 to $199 and receive a 75% bonus. Deposit $200 or more and receive the 100% bonus up to $1,000.
In addition, Topbet does a great job of taking care of loyal players by offering a host of other perks and ongoing promotions. For example every week they offer some sort of promotion for one of their featured matchups. They also offer a free payout on your first withdrawal. Plus you earn comp points based on how much you bet that you can turn into real cash money instantly. And if all that isn't enough to get you excited, then their reload bonus up to 30% should. Topbet awards all reloads with up to 30% in bonuses which really comes in handy if you are not running so good. So needless to say, if perks and bonuses are important to you, then Topbet is actually an excellent choice in this regard.
Mobile Software Interface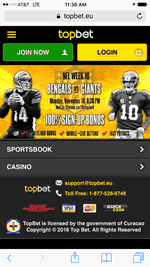 The mobile platform at Topbet is actually one of the best on the market. It's clear they've spent a lot of time and money ensuring that their mobile friendly site is compatible with all major devices including apple iPhones and Tablets, Androids, Nexus, Windows Smartphones and every other device in the mobile arena. This always speaks volumes to me as someone who understands what it takes to create a mobile betting app. It's not easy, at least to do it 100% correctly.
So when it comes to betting on sports from your mobile smart phone device, Topbet offers everything you would expect. One way to look at it is if you can bet it on the desktop version of the site, then you can bet it via the mobile site. This includes all your favorite sports such as Football, Basketball, Soccer, Tennis, Hockey and so much more. And of course you can bet halves, parlays, teasers, straight bets ect.. Again their complete desktop offerings are available via mobile devices.
In addition, Topbet offers more than just sports betting on their mobile. Players can also enjoy playing a wide range of real money casino games or even bet on the horses. So on the mobile front, I have to say that Topbet does a very good job by offering everything you would expect to find on the desktop version of the site.
Live Mobile Betting
Live betting is an area within the sports betting niche that continues to gain momentum. It allows players to bet on the games live while they are happening. This is a huge deal and the smart players realize that having a live mobile betting option is very important. What it does is allows you to hedge your bets in real time often locking in guaranteed profit for you as the player. For example if the Patriots are giving up 7 points to the Bills, and you bet the bills +7. And the bills come out strong and score 2 quick touchdowns half way through the first quarter. You might see a live betting line now at the Pats +3. So if you bet the Pats +3 in this situation, you have a huge middle with an opportunity to win both bets.
Support
Topbet offers customer support 24/7 365 days a year. You can reach them instantly by calling their toll free number 1-877-528-6748. Or you can send them an email to support@topbet.eu. We've tested out their response times with a generic query about their bonus offer, and we were pleasantly surprised with a response in about an hour. That's pretty darn good for a major site and tells us they are on their game.
Cashier
Topbet is known for having some of the best credit card processing in the industry. They accept either Visa or Mastercard and offer deposits up to $2,000. So if you are a player who has experienced constant credit card declines at other sites, we highly recommend you give Topbet a shot as you will likely be pleasantly surprised that they get the deposit approved through their processor.
In addition, Topbet is currently adding Bitcoin as both a deposit and a payout option. This will streamline everything which is great, especially for USA players who have experienced the pains of both depositing and collecting payouts at many sites. Bitcoin solves everything and will soon be live at Topbet.
Summary Of Topbet Mobile Sportsbook
At the end of the day, we feel like Topbet is one of the top 5 sites currently still operating in the US market. They've had a few growing pains which is nothing new. All sites have had a few bumps in the road at some point. But everything is running pretty good now and with their fantastic bonus offers (currently one of the highest in the industry), there are a lot of reasons to become a new player at topbet.
Visit Topbet Mobile Sportsbook