Canadian Mobile Sports Betting Apps 2023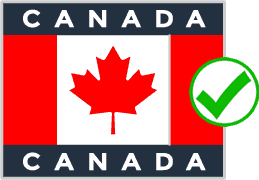 Canadians have access to sports betting through multiple licensed online sportsbook options. However, there is also a Canadian mobile sports betting market that allows bettors to take their action on the go. Mobile betting works through mobile web-based apps that work seamlessly with your device's operating system.
This page was created exclusively for residents interested in Canadian mobile sports betting and has information on which mobile sportsbooks cater to Canadian residents, CA sports betting laws, an 'About' section on how sports betting apps work as well as a FAQ section.
Most Reputable Online Sportsbooks Offering Mobile Friendly Sports Betting Apps For Canadians
While there are numerous Canadian gambling apps on the market, there are only a handful of online sports betting brands that offer a mobile sports betting app. Our team of sports betting experts have pinpointed which online sportsbooks not only accept Canadian players, but also provide the highest quality online sports betting experience.
Each of these gambling sites offer betting lines from sports all around the world, live betting capabilities and more. Our team has verified these sites are also legally sanctioned and regulated. You can browse through the sites by clicking on the links provided in the table.
Is Mobile Sports Betting Legal In Canada?
Canadians can legally gamble with mobile sportsbooks as long as they are legally sanctioned. This means they have legal licensing from a respected government and are properly regulated. Canadian gambling permits licensed online and mobile sportsbooks to operate domestically, however at this time they are only able to offer a 3 team parlay wagering option. The offshore sportsbooks that are available to Canadian residents offers a much wider selection of sports coverage, betting lines and wagering options.
What To Look For With A Quality Canadian Mobile Sportsbook App
Our suggested Canadian mobile sportsbook apps have been vetted by our team as part of a thorough screening process. When determining which mobile sportsbook to use, it is important you verify that the sportsbook meets specific criteria that will keep you within your legal rights and ensure that you have access to the highest quality destinations in the business. The following sections detail what criteria our team looks for when examining sportsbooks.
Legitimacy – The most important thing to verify when looking at mobile sportsbooks is legitimacy. Our recommended mobile sportsbooks for Canadian players are all legally licensed and regulated. Canadian gambling law includes legal provisions for licensed and regulated sportsbooks. By betting with a legitimate mobile sportsbook brand, Canadians will not be in violation of any laws.
Betting Lines – Canadian mobile sportsbooks offer betting lines on sports and leagues from around the world. Some of the most popular sports include American football, hockey, soccer, baseball and basketball. Other smaller betting lines are featured on darts, boxing/MMA matches, golf, horse/car racing, eSports and more. There are often tournament-exclusive betting lines for major sports tournaments like the World Cup.
Live Betting – Live betting is one of the most exciting features of online sports betting and is perfect for the mobile platform. Mobile and live betting combine to give bettors complete access to sports betting—in real-time from anywhere. Live betting creates a different style of sports betting that many find exciting. Since live betting is more time-sensitive, there are rules and procedures unique to the live betting interface. There are standard betting lines like point spreads and over/unders, but there are also unique live prop bets.
Types Of Bets – Mobile sportsbooks have the same betting lines as their web counterparts. You can place point spread bets, money line bets, totals (over/under), prop bets, futures and more. There are also parlays, teasers and other wagering types that can potentially generate more winnings. Live betting has its own exclusive bet types.
Bonuses – Bonuses are what differentiate mobile sports betting apps from brick-and-mortar sports betting venues. There are several different bonus types, but the standard bonus is what is known as a 'match bonus'. Match bonuses grant players a percentage match on their initial deposit. For example, a common welcome bonus would be a 50% bonus match up to $1,000.
Other bonuses include Refer-A-Friend incentives, financial-based bonuses for Bitcoin users, and even live and mobile betting exclusive bonuses that promote the different platforms. All you have to do claim these bonuses is make an account and make your first successful deposit. Sites will prompt you to enter a promo code to claim the bonus and the additional funds will be applied to your sportsbook account.
Interface – Canadian mobile sportsbooks are built to work across a variety of devices and carriers via responsive design technology. The layout of the site is similar to the web version, with columns and rows for the respective betting lines. You can toggle between sports by clicking on the different sports options in the navigation bar.
Switching between standard sports betting and live betting is simple. The overall user-interface is easy to use for both novice and experienced sports bettors. All bets can be tracked through the Bet Slip (an additional window where you can see how much you have wagered and how much you stand to win).
Banking Suite – Managing your account from your smartphone or tablet is easy. You can make deposits or withdrawals from your device. Deposit options vary based on the country that you are registered in. Some of the more common deposit methods include credit/debit cards, money transfers, eWallets and Bitcoin.
Withdrawal methods also vary per country, and can possibly include additional fees from the financial institution backing the transaction. There are minimum and maximum deposit/payout limits users must adhere to. All aspects of the website work on the mobile platform, including the banking suite.
Compatibility – As mentioned earlier, responsive design technology is used to help keep functionality consistent across a wide range of devices and mobile networks. Canadian mobile sports betting sites work with iPhone, Android, Windows and Blackberry devices. Responsive design allows the site to render correctly on different sized screen dimensions. This technology also helps the mobile site function on different levels of software updates, allowing for more users to access the site.
FAQs For Canadian Players
True! Canada's gambling laws allow domestic sportsbooks to operate, however their offerings are very limited at this time and many bettors prefer the wider range of options available through offshore sportsbooks.
Yes. All of our recommended Canadian mobile sportsbooks use SSL and data encryption technologies to safeguard players' personal and financial information.
Depends on the mobile sportsbook you are betting with. Some mobile sportsbooks have some sort of free play, but it does not operate like casino and poker free play. Sports betting free plays are often acquired as a part of exclusive bonuses. For example, a sportsbooks may offer you a free $25 bet for opening an account.
You can create a mobile sports betting account from your smartphone or tablet device. You can access all functions and parts of the sportsbook from your device and should not have to use the web version unless you want to. You are able to manage your account, place bets and handle banking transactions from your smartphone or tablet.