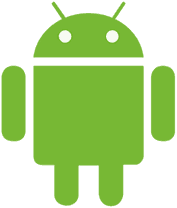 Whether you are running the Android Ice Cream Sandwich (ICS) 4.0 operating system, Jelly Bean 4.3, KitKat 4.4 or a newer version, there is an Android poker app which will reliably provide a user interface that will work perfectly for your particular smartphone, tablet or mobile PC. And usually, even if you have an older Android operating system, like Android 3.2 (Honeycomb), most of the applications you get online which deliver real money poker gambling will work as well. And though there are only a few states which have legalized state-sponsored real money poker play in the US, there are other legal options for you to enjoy Internet poker on your Android tablet or smartphone as a resident of the USA. There are also some high quality Android casino apps, as well as other types of Android gambling apps at your disposal.
The Google Play store has decided to disallow real money poker apps for Android devices, but there are a couple of ways US and international poker players can legally enjoy some Texas Hold 'Em, Omaha or Seven Card Stud on their Android device. There are a limited number of online poker rooms which have obtained legitimate licensing, and this allows them to responsibly offer Internet poker and other forms of online gambling. Offshore jurisdictions such as Panama, Curacao, the UK and other areas have legalized and regulated online gambling. By obtaining licensing in areas outside the United States where online gambling is legal, companies which offer on-site Android poker apps and mobile web versions of their poker room can support US players.
It doesn't matter whether you are on an Android smartphone or tablet, as long as you are using a reasonably up-to-date Android OS, you are in business. We mentioned above that there are a couple of different ways to enjoy real money gambling on your favorite poker games, and that includes downloading an online poker Android app from your favorite poker room, or accessing the responsive, mobile web version of that site's software. You just first need to understand which websites are legitimately and legally licensed offshore, so that you know you are enjoying a trustworthy and reliable online poker experience.
We have compiled a list of those legally licensed offshore poker rooms which offer either an Android poker app or built-in mobile web version of their software which is compatible with an Android tablet or smartphone. And as more states move towards legal online gambling in the form of poker and other games, we will update that information right here on our website. But we have found that the best real money poker app for Android operating systems is one which has been created specifically for a particular poker room. This ensures that the game play, interface, banking options and software have already been tested for your Android operating system, and work perfectly on your device. The same types of options are available across all the major platforms, including iPhone poker, iPad poker, and BlackBerry poker.
Whether you are running the Ice Cream Sandwich, Jelly Bean or KitKat OS, the procedure is the same. Access one of the legitimate Android poker rooms listed on this page. We recommend that you initially do this from a laptop or PC simply for ease of use. The data entry that is required during registration is just easier on a computer. In addition, you should review the site's terms and conditions before depositing any money into your account, this also is easier on a computer because this information is usually quite lengthy. Once you complete the registration process, you will then see either a mobile link, QR code or mobile tab, usually found at the top of the homepage. This will either take you to an Android poker app which you download to your mobile device, or responsive software will immediately detect your screen size, and instantly deliver a customized user interface perfectly fitting your Android tablet or smartphone. This is true whether you are on a Samsung Galaxy S III, HTC One, Galaxy Note 3 or some other Android device, and will have you playing your favorite poker game in minutes.
Top Rated Android Poker Site
Ignition Poker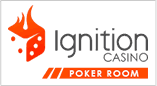 100% Bonus Up To $1,000
gnition Mobile Poker is one of our favorite Android poker options for USA players, and we'll tell you why. First of all, they are one of the most legitimate brands in the online gambling industry and are part of the Bovada family of sites. They are extremely transparent when it comes to verifying their licensing and compliance certifications, as well as reviewing their security profile, which exceeds both licensing and industry standards. They employ a highly reliable and consistent software solution that guarantees safe and high end performance with well designed features and options. You will find cash games that offer Fixed Limit and No Limit Hold 'em as well as Sit & Go games for No Limit Hold 'em. New mobile players will be given a 100% match bonus up to $1,000 on your first deposit. To access the mobile poker options, first visit their website and register for a player account. Once you have completed your registration, you can access the mobile poker site and login to your account.
Real Money Mobile Poker Apps
The list of trusted poker sites that have already developed their mobile poker applications may not be lengthy, but it is refined and only contains those brands which are dedicated to providing the highest quality mobile poker gaming experience possible. At this time, there is only one option available to Android devices. As this market expands and reputable brands are added to the list of viable options, we will include them in this guide. We suggest you check back to this page regularly for updates on any new options that may become available.
#
Gambling App
Compatibility
Bonus
USA
Rating
Review
USA Poker Sites
1
iPhone, iPad, Android, Windows
$500

Visit Site Review
2
iPhone, iPad, Android, Windows
$1,000



Visit Site Review
Non USA Poker Sites
USD $ / British Pound Sterling £ / Euros €
1
iPhone, iPad, Android, Windows

Visit Site Review
We wanted to also make sure that you are aware that there are some very secure, reliable and reputable Android gambling apps that cover both casino gambling and Android sports betting. The following apps are mobile optimized casinos and sports betting applications that were designed specifically to operate on your Android device. These platforms are a little bit ahead of the poker venue when it comes to development, but they are also less complex than a poker gambling application, so they were created first.
Legal Real Money Android Poker Apps for US Players - What Are My Options?
As a US player looking to access an Android poker app which allows real money gambling, you legally have more options than you may believe. There are currently a few states which deliver their own version of Internet poker to their residents and visitors. The catch is, you must be located in that state to play. So if you are currently in Nevada, New Jersey, Delaware or any other US state which has legalized Internet poker, simply power up your Android smartphone or tablet running the Android 3.2 (Honeycomb) operating system or newer, and you are good to go. But what happens if you are not located in one of the very few states which offers legal online poker and other forms of gambling to its residents and travelers?
The good news is, not all countries have made online gambling illegal. This means that when an Internet poker room obtains licensing in one of those jurisdictions, it is legally certified to provide Android poker apps and mobile web versions of its Internet poker room, even to US players. This way, if you do not happen to live in a particular state which has legalized online poker, you can still log onto your Android tablet, smartphone or mobile PC and enjoy some reliable and legitimate online poker. The real money poker apps for Android devices offered by these particular Internet poker rooms will also deliver a few benefits over the state sponsored poker options we mentioned above.
Internet poker rooms licensed offshore generally offer welcome bonuses and other player rewards to attract your business. This is certainly not the case with US state-specific poker rooms. Also, the best real money poker app for Android operating systems that we have found in our years as consultants in the online gambling industry is one which is site-specific. And Google Play does not, as of this writing, allow real money gambling apps. If that changes in the future we will certainly keep you posted, but that is simply another reason to download an online poker Android app from a legitimately licensed and registered offshore poker room's website.
As we mentioned in the section above, these legally licensed offshore companies support most Android OS versions, like Jelly Bean and KitKat. Also, unlike third-party applications, they were developed to efficiently transition one website's Internet poker experience from the big-screen to the smaller display of your Android smartphone or tablet. This means that you can enjoy a similar and familiar experience when playing your favorite poker games, when you move between desktop, laptop, smartphone and tablet displays. Downloading the Android poker app found on the site of a legitimately licensed Internet poker room guarantees speed, reliability and security as well.
There is absolutely nothing wrong with the state sponsored Internet poker websites which are currently available. But not everyone lives in those limited number of states. This is what makes Android poker apps offered by legitimately licensed offshore poker rooms such a lifesaver for US poker players. Not only are you insured to enjoy smooth game play on a user interface which is catered specifically to your Android screen size, but you also get peace of mind knowing you are on a legally licensed and certified website. Check back frequently as we often review and update our recommendations, delivering the links to only those legitimate Internet poker rooms which provide real money gambling Android support for US and international players.
Other Mobile Poker Options